Source: Google Images
A very popular fast food chain in the Philippines, who would thought that Jollibee started as an Ice cream shop in Cubao, Quezon City year 1975. Since then, Jollibee started to offer various kinds of food including hamburger, chicken joy and many foods that kids favored.
Now Jollibee is already a part on Philippine culture.
Enough of the introduction I know you're hungry already haha.
In case that you want to order online at Jollibee Delivery but the website is offline (just like the screenshot below)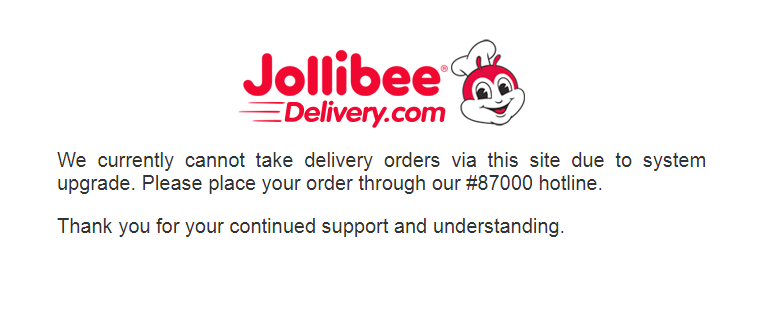 Please take note that I am not affiliated with Jollibee delivery.
Okay here are the contact numbers:

8-7000 for Metro Manila
838-7000 for Laguna
888-7000 for Pampanga
878-7000 for Cavite
678-7000 for Bulacan
238-7000 for Cebu
300-8700 for Batangas
808-7000 for Bataan
8-7000 for Rizal